Something has been bothering me lately. Morning routine doesn't consist of much for me because honestly, I love my sleep. I'm not going to get up an hour and a half early to put on make up or do my hair or countless other things that I can't think of but apparently, women do in the morning. However, I've noticed through
traveling, or from simple human observation, that our world has suddenly become awash in ill fitting jeans and t-shirts, and, if you live in my town, pajama bottoms and stained sweatshirts. It is kind of deplorable, really. There's a certain pride that men and women used to take in how they appeared to the world and it is a pride that apparently has been shot to hell in recent years. After pondering this situation for several days, the only conclusion I can come up with is that we, as a society, are so terrified of an alien invasion that we are trying to look as unappealing as possible.
I realized this yesterday as I walking around town. Fed up with most of my clothes and the idea of feeling like a frumpy old cat lady that only toothless men seem to desire, I did the unthinkable. I put on a skirt.
I know. I know. I'm endangering our world. I became aware of this when I walked to the grocery store and I got several looks from people. A woman who dresses nice seems to be a rare breed now. Maybe not in every town, but in Eugene Oregon, we are trying our hardest to fight this constant threat of alien invasions by dressing either in clothes that we are spilling out of, or ones that hide the fact that we are even human. Walking down the street in a skirt and boots was a dangerous thing that I did. The fact that I added a nice fitting jacket to it and then entered into a store where they sold more clothes that are directly hindering the war effort.... I kind of feel like I'm not living up to my American duties. If I truly loved my country, I'd be wearing pajama bottoms and stained sweatshirts as I walked around town.
Furthermore, I have the definite plight of being a nerd girl. Nerd girls are only allowed to look like this:
The television shows us that social inept nerdom is the way to go. It is the only thing that makes you a nerd in fact unless you want to dress in a gold bikini. Then you are the rare hot nerd that is plastered over nerd guy bedrooms. But, dressing nicely just for the hell of it pretty much means you have to hand your nerd card in. So not only was I inviting the aliens down to our lush planet with my stocking covered legs, but I was also showing my true colors. Donning a skirt is a beacon to the world that you think Superheroes are for little boys and that an x-box controller is pretty much a strange object that will explode if you microwave or put it in the blender. Nerd girls would never dress nicely or in a way that doesn't express their nerdyness. No no. Don't be fooled. Nerd girls that dress nice are just lying to you. Here are some of those posers so you are more aware.
Basically, this blog is an apology. I apologize for having the audacity to dress like a woman yesterday and I can only thank whoever is listening that the Mothership did not darken or smog filled skies. Some handy tips to dressing so we can ensure the survival of the human race? Well, it's easy. See below.
Furthermore, I'm sorry that I disgraced all the nerd girls out there yesterday with my clothing lies. I attempted to thwart this by rolling a few twenty siders last night and found that the dice fumbled out of my hand and I suddenly couldn't remember how to do perception checks or even know what to do when faced with such things as the Whispering Way and their henchmen. The skirt rendered my nerd abilities useless. I am ashamed.
Don't make the same mistakes I did yesterday. Women of the world, continue to dress in things that suppress your confidence because it is the only way we are going to stay alive in this world. And nerd girls, make sure that you only dress nerdy. Not this type of nerdy either.
This kind.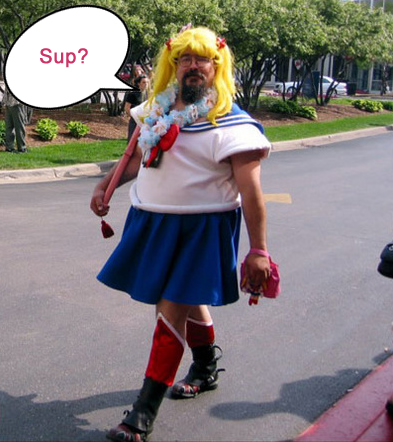 It's the only way to keep your nerd card. Don't be like me. Don't dress up and have it taken away. You can't be both an alien beacon and a nerd girl at the same time. The time has come to choose, my fellow Nerd Fighters. Although, on the upside, if we do live in a post apocolyptic world, things like this will be acceptable.